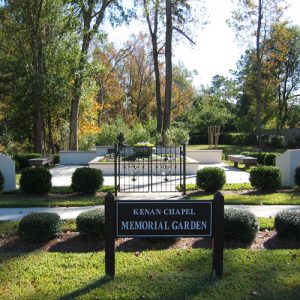 The Memorial Garden, Labyrinth, and Chapel Woods.
These tranquil areas offer serene locations for peaceful meditation or for outdoor services including the interment of ashes of loved ones.
The Original Memorial Garden 
This portion of the Memorial Garden provides an elevated, landscaped area for interment of cremains. Two adjacent pedestals hold brass plaques inscribed with the names of loved ones interred here.
The Chapel Woods 
This newest addition to the Memorial Gardens was dedicated in 2014 and presents a serene location surrounded by nature. A tranquil walkway circles through beautiful mature trees and allows a view of the Kenan Chapel and the adjacent Labyrinth. All along the Chapel Woods walkway are areas for resting and meditation with nearby individual sites for interment of the cremains of loved ones.
Each of the individual sites will be permanently identified by a brown Dakota mahogany granite marker.
The Labyrinth
Provides a circular walkway for meditation culminating in a sculpture of a Great Blue Heron created by Ed Hearn.
Contact the Chapel for availability and fees.