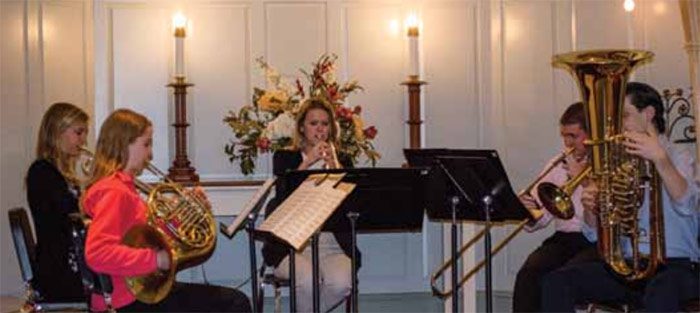 By Reuben Allen
The Kenan Chapel Music Committee, chaired by Reuben Allen, is dedicated to
bringing exemplary talent and concerts to the community. The Music Committee is
comprised of persons who help make this a reality. Usually, the concerts perform to
a full house with standing ovations at the conclusion of the concert. Not only are the
concerts free, but a reception is provided after most of them at the Country Club of Landfall.
We began 2015 with a piano concert with Barry Salwen from UNCW. We were pleased
to have the Tallis Chamber Orchestra return for the Mothers' Day Concert. This is the
seventh year The Port City Music Festival has begun its concert series at the Chapel. John
Tabler gave an outstanding concert using the Chapel organ. Nancy King and students
from UNCW performed in September. In November the Kenan Scholars from UNC
gave an excellent concert.
The North Carolina School of the Arts rewarded us with three outstanding concerts
in 2015. The first was a pianist and partners concert in February followed by the Gianini
Quartet in March. In November, the Fletcher Opera performed operatic pieces and treated
us to popular music at the reception. The UNCW Chamber Singers, under the direction
of Joe Hickman, performed both secular and seasonal music at our November concert
In 2016, the Tallis Chamber Orchestra and the Port City Music Festival will return
as well as other great performances providing a variety of entertainment. Our goal is to
bring emerging artists to our community, and we will continue on the same path in
the future. Please see our schedule.