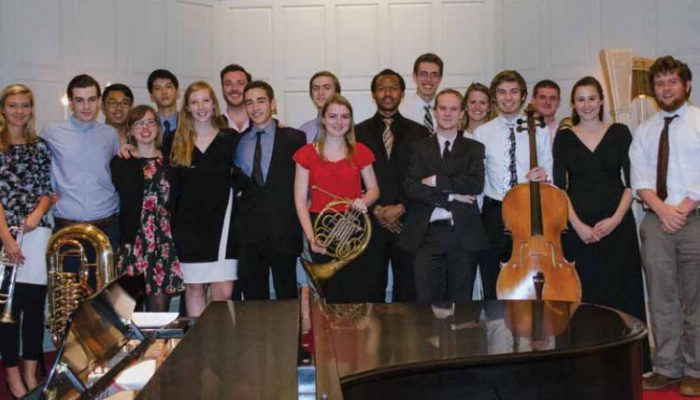 The Kenan Chapel Music Scholars at UNC Chapel Hill
By Jim Martz
Many of you enjoyed a most wonderful musical opportunity to see and hear 12 outstanding Kenan Music Scholars in concert at our Kenan Chapel on Nov. 8. These very special young musician scholars from the University of North Carolina at Chapel Hill presented a concert of solo and chamber music, including classical standards, jazz and original compositions. They were joined for this concert by five students from the UNC Department of Music.
Each of the Musician Scholars has been awarded a four-year, full-tuition scholarship (fees, room and board). The Kenan Music Scholarship is the premier scholarship of the University of North Carolina at Chapel Hill Department of Music. Each year four incoming students are awarded this generous scholarship, not only for tuition and fees, but also for enrichment activities (summer programs, master classes, travel and research). Each of them specializes in various music concentrations such as vocals to tuba, flute, and violins. In addition, they are encouraged to combine their musical studies with coursework or a second major at UNC, one of the nation's most prestigious research universities.
All of the resources to enable this world class music program came about because of the William R. Kenan Jr. Charitable Trust that has a long history of supporting the arts across North Carolina.
The first class of Kenan Music Scholars started in 2007 with an endowment gift of $4 million from the Kenan Trust. Another $4 million gift was awarded to complete construction of the Kenan music Building in 2008. Additional gifts from the Kenan Trust have had transformational effects for the entire Department of Music including $5 million to inaugurate a campaign to renovate Hill Hall.
Through the generosity of the Kenan Family, arts programs in North Carolina have flourished and are world class. And, yes, Kenan Chapel is a proud part of this legacy.