Join us on Sunday, March 22, 2020 at 5:00 p.m. for UNC School of the Arts: "Flutes!"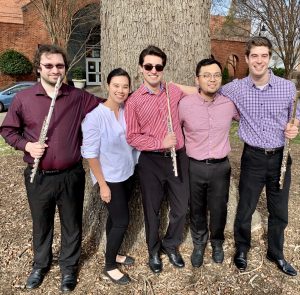 The Frank H. Kenan Chapel Presents:
UNC School of the Arts: "Flutes!"
The Woodwinds Department at the University of North Carolina School of the Arts has a very special group of flutists and accompanists called The UNCSA Flute Studio. Under the direction of nationally renowned flutist, Dr. Tadeu Coelho, all of these exceptional graduate student musicians have studied and performed throughout the US and abroad. The three flutists are Tom Barkal, Sean Worcester, and Ricardo Gil. Accompanying them are pianists Yihao Zhou and Nicole Foo. Today's program includes works by Hummel, Pattillo and Mendelssohn. This should be a very lively and memorable performance.
We are honored to host these talented graduate students from the UNCSA School of Music.
Concert begins at 5 p.m. with a reception following at the Country Club of Landfall. Complimentary tickets will be available at the NE Branch of the New Hanover County Library on March 16th. Please consider a generous donation to help us continue this wonderful music program at Kenan Chapel.
See Kenanchapel.com and "Like" us on Facebook for up to date information