June 2nd: Port City Music Festival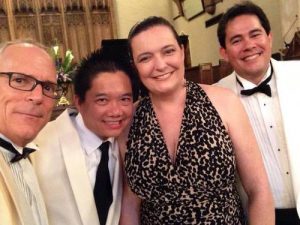 The Frank H. Kenan Chapel Presents:
The Port City Music Festival
June 2, 2019 at 5:00 p.m.
This will be the 11th year for this very popular and wonderful Port City Music Festival to be in Wilmington. As in the past this year's performances will again start off right here at Kenan Chapel. It is directed by world acclaimed cellist and conductor Dr. Stephen Framil and will again have such international performers as violinist Luigi Mazzocchi, pianist Dr. Daniel Lau, mezzo- soprano Kyle Engler, soprano Raya Framil, and tenor Perry Brisbon. This exciting and energetic program will include several works from both Franz Schubert and Victor Herbert.
Complimentary tickets are available at the NE Branch of the NHC Library beginning May 28th. A reception follows the concert at the Country Club of Landfall. Please consider a generous donation to help us continue this wonderful music program at Kenan Chapel.
See Kenanchapel.com and "Like" us on Facebook for up to date information.